4-H Embryology Program!
Find this article at:
go.ncsu.edu/readext?800789
4-H Embryology "pipped" the interest of 2nd graders in over 50 classrooms across the county's elementary schools and charter schools this spring. The 4-H school enrichment program is a favorite among teachers and students because of its fun, educational, and a very rewarding experience! 
The program is designed to teach about the life cycle, science, nature, responsibility, and working together towards a common goal through the incubation and hatching of chicks.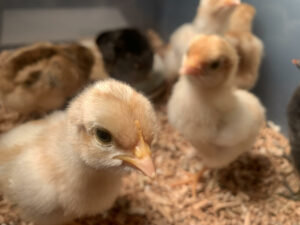 Henderson County 4-H provides training to teachers, equipment, curriculum and fertile eggs for any second grade classrooms that want to participate. However, the teachers and youth participating are the "spark" that makes this program so beneficial. The incubation of chick eggs is hands-on oriented. Students must diligently and responsibly turn their classroom eggs three times a day, keep records, "candle" to see different development stages inside the egg, keep temperatures and humidity levels accurate and await the moment for the chicks to "pip" out of their shells. After hatching, classrooms will typically keep the chicks for a week, which means feeding, watering, keeping warm, and cleaning up their brooder boxes often. The results? 
"Dear 4-H,
Thank you so much for letting us do the egg project. There are many things about it that I loved! Candling and turning the eggs was a ton of fun. We were thrilled to watch the first chick hatch! The children loved every minute of this process. I can't thank you enough for this opportunity!" -2nd Grade Classroom Teacher, Atkinson Elementary
"Dear 4-H,
Thank you so much. It was an amazing experience. Turning and candling the eggs. I love hearing them chirp. We named them Boots, Mae, Chipmunk, Survivor, Big Fluffy, Fuzzy Feet, and Baldie." -2nd Grade student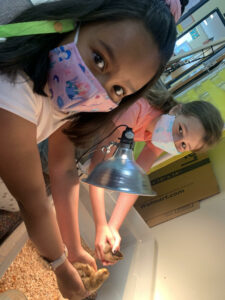 "The students sharpened their skills on making predictions. Their observation skills were also enhanced. This project gets better every year. It was so nice to be able to have the 4-H Embryology learning experience after all the struggles of the year." -2nd Grade Teacher
4-H would not be able to provide this opportunity without the support of our local community farmers providing fertile eggs, 4-H volunteers, and the wonderful teachers we get to work with. Thank you to Gary Stiener, Louis Brown, Rebecca Miller, the Barnyard Bandits 4-H Club, our youth 4-H volunteers, and teachers!
To learn more about 4-H School Enrichment programs and opportunities please visit:  4-H School Enrichment