Being Thankful During Trying Times
Find this article at:
go.ncsu.edu/readext?672427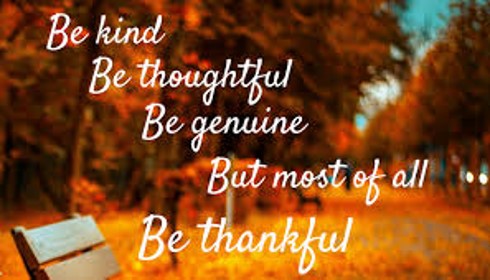 Most of us have never experienced anything like the times we are facing right now. With the COVID-19 pandemic, we have seen our world turned upside down and life has virtually ground to a halt. Still others are working around the clock to provide health care and life-saving efforts to those afflicted by this horrible virus.
There are those that are working hard to come up with solutions to the problem. Some are working on therapeutic treatments and others on vaccines. Private and public concerns are working together to produce something that will help us battle the Coronavirus.
All of these people are putting their own health at risk to help others. Many are working without proper personal protective equipment as shortages on masks, gowns and gloves abound.
While many are hunkered down due to "stay at home" orders for the protection of themselves and others, there are many still out there doing an essential job. Some people are working from home, but others are working the drive-thru at a local restaurant or stocking our grocery shelves as best they can. Some are keeping the pharmacies open, checking you out at the grocery store or driving trucks to get supplies from the warehouse to the point of purchase.
Another group that is still working are our farmers. You may have noticed that there are shortages of some items on the grocery shelf. It's not so much a shortage of food as it is the strain that it has created on the distribution chain. Dairy farmers are actually having to dump perfectly good milk because they can't get it to the stores.
Meat and poultry shelves, bread, cereals and many other items are in short supply. Once the supply chain is able to catch up, these items should be back on the shelf. But what about after the virus? People will still have to eat. When this dreadful episode in our history is over – and it will come to an end, folks will still need food.
So, right now in the midst of the crisis, farmers are out plowing fields, planting and yes harvesting crops and producing the goods we will need to sustain us. Because after all the ventilators are put away and the hospitals become less crowded and people return to work, they will still have to eat.
This may be the worst crisis since World War II and the Great Depression. But in all of the despair, we should stop and thank a nurse, a cashier, a truck driver, a pharmacy clerk and many others that are out there while most of us can keep our social distance. And yes, thank a farmer for planning ahead to make sure that not only do we have sustenance now but also when the crisis is over.
If Cooperative Extension can help you in any way, please let us know. That's what we're here for. We're still here working although our office is closed to the public. In the meantime, don't hoard food items – your neighbor must eat, too. Don't gather in groups larger than recommended – the rules are for you, too. Be patient. Be kind. Be optimistic. For this too shall pass.