4-H Mini-Garden Winners
4-H Gardening is a fun way for young people, ages 9–18, to learn how to grow a vegetable garden! 4-H provides seeds, plants, and training. Extension Master Gardener℠ volunteers and garden volunteers visit the gardens twice during the summer to offer advice, judge the gardens and journals, and answer questions.
Nineteen young people took part in 4-H Garden Programs this summer! Thank you to Extension Master Gardener volunteers Pat Newcomer, Kate Raevuori-Wilson, and Claudia Case, and garden volunteer Mary Maybin, for overseeing this program!
Winners were announced at the 4-H Mini-Garden Covered Dish Supper and Awards Program in August. Participants brought tasty treats made from their gardens. A highlight was a garden trivia game provided by Kate Raevuori-Wilson.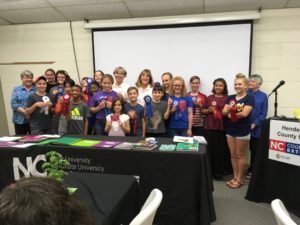 Winners were:
4-H Mini-Gardening:  youth plant a 10×12 foot vegetable garden at home and keep a garden journal. 4-H provides the seeds and plants for the garden. Each child plants the same vegetables.
Age 9:  1st place – Randi-Mae Eatmon, 2nd place – Mary Williamson, 3rd place – Logan Baird
Age 10:  1st place – Myles Keefauver, 2nd place – Landon Martin and Elize Mohammed, 3rd place – Gus McCall and Addison Capps
Age 11: 1st place – Lizzie Lyda, 2nd place – Zoe Martin and Joceyln Maybin
Age 12: 1st place – Charlie Brake, 2nd place – Chloe Hager
Age 13: 1st place – Isaac Askin
Age 15: 1st place – Hannah Brake
4-H Container Gardening: for youth who do not have a 10×12 foot space to garden. Each child grows a variety of vegetables in containers and maintains a garden journal.
1st place: Grace Brown
4-H Advanced Gardening:  youth plant gardens at home, and grow at least 4 different vegetables, herbs, and flowers. Gardeners also mulch, border and decorate their gardens, and maintain a garden journal.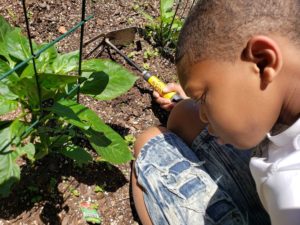 1st place:  Ivory Eatmon
2nd place:  Andre Williamson

Combination Advanced and Container Gardening:
1st Place:  Emma Bartlett
Thank you to our 4-H Mini-Garden sponsors:
Valley Ag
Dr. Dilip Panthee, Assistant Professor, Horticulture, Mountain Horticultural Crops Research & Extension Center
Community Foundation of Henderson County
Hendersonville Hen Society
Land of Sky Garden Club
Stuart and Barbara Glassman
Linda's Plants
Contact Denise_Sherrill@ncsu.edu in February if you are interested in 4-H Mini-Gardening in 2020. This program will be limited to 20 participants. We welcome potential new garden volunteers and sponsors.