Henderson County 4-H Wins Big at West District 4-H Shoot!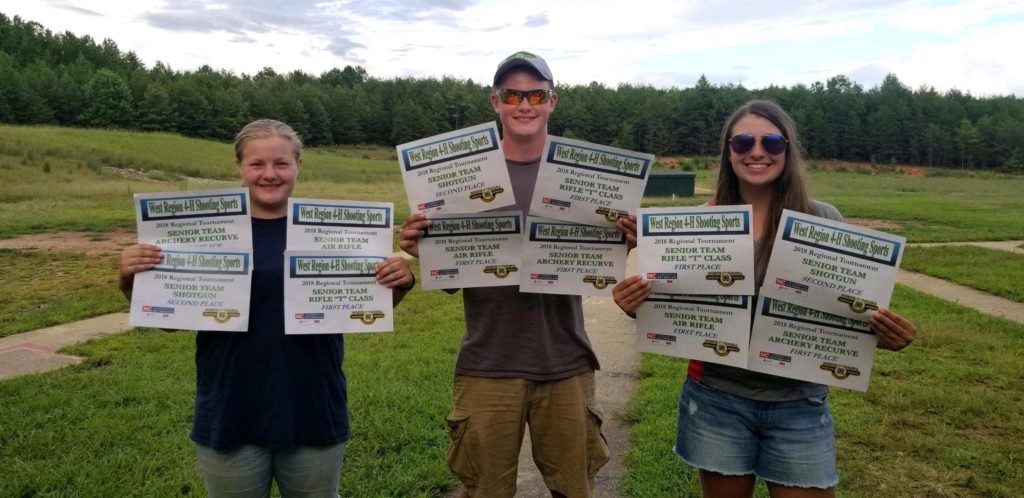 138 young people from across Western NC gathered for the West District 4-H Shoot on August 11 at the Polk County Gun Club. Henderson County 4-H was represented by 12 members of the Young Naturalists 4-H Club, and 6 volunteers who helped with scoring and running events. The Henderson County Senior Team placed first in Recurve Archery, Air Rifle, and T-Class and Rifle, and second in Shotgun. Grace Batchelder and Ivey and Emma Wilkie were on all of these teams. Ian Capps joined them in Shotgun and Archery. The Henderson County Junior Team of Kaiya Thomas, Zach and Isaiac Swekosky, and John Paul Torres, placed first in Junior Recurve Archery. Henderson County 4-H also had several people who qualified as individuals to go on to the state competition.
The goal of 4-H is to develop skills that young people will need throughout their lives:  responsibility, leadership, citizenship, and serving others. In 4-H Shooting Sports, participants learn about the safe and responsible use of firearms, decision-making, teamwork, self-discipline, self-confidence, and problems solving. Learn more about 4-H Shooting Sports.
Henderson County 4-H thrives through support from our community. Through local contributions, we are able to offer scholarships, camps, classes, and 4-H clubs for children, ages 5-18. A donation to Henderson County 4-H helps kids grow into confident, capable, and caring adults. Contribute to  4-H!
Mail a check to Henderson County 4-H, 100 Jackson Park Rd., Hendersonville, NC 28792
Give to a Henderson County 4-H endowment through Community Foundation
Pull for Youth Sporting Clays events will be held Sept. 14 (Lenoir), Oct. 5 (Nashville), and Nov. 2 (Fuquay-Varina). Learn more about these fundraisers for NC 4-H and FFA.