Henderson County Tailgate Markets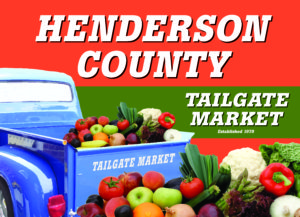 Henderson County has four active tailgate farmers markets making it easy to buy fresh farm products directly from the folks that grow or produce them!
Henderson County Tailgate Market open Saturdays from 8 a.m. – noon April through October. Located at 100 N. King St. in downtown Hendersonville.
Hendersonville Curb Market is open Tuesday, Thursday and Saturday from 8 a.m. – 2 p.m. Located at 221 North Church St and 2nd Ave in downtown Hendersonville. www.curbmarket.com
Mills River Farmers Market is open on Satrudays from 8 a.m. – 12 p.m. Located at 94 School House Road Mills River, NC 28759. https//www.facebook.com/MillsRiverFarmersMarket/
Flat Rock Farmers Market is open on Thursdays from 3 p.m. – 6 p.m. Located at 2720 Greenville Hwy. in Flat Rock. Located in the parking area behind the shops along Little Rainbow Row in Flat Rock on the Greenville Hwy. (225 S.), just south of the Flat Rock Play House. http://flatrockfarmersmarket.com/